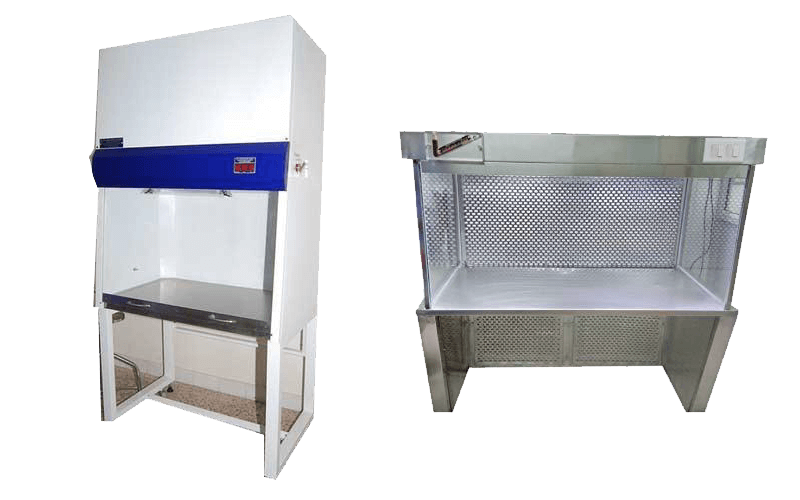 Kaizen Airtech Horizontal Laminar Flow Clean Bench blends in latest laminar flow technology and innovation to provide proven protection for your samples and processes. The new generation Horizontal Laminar Flow Clean Benches offers a wide range of options for our customers; with glass side wall, sizes from 2 to 6 feet, behind the many options that the customer can select, the full range of the new Kaizen Airtech laminar flow clean benches is powered by the latest generation ultra-high efficiency motor. It now also offers ISO Class 3 (Class 100 air quality) work zone with a 10x efficiency of its HEPA filters. With more choices for the customers, Kaizen Airtech laminar flow clean benches still offer the same level of product protection for your samples and processes where operator protection is not required.
Key Benefits :
• Class 100 Air quality maintains.
• Energy Efficient
• Superior airflow uniformity
• Ergonomic design
Features :
• Microprocessor Controller displays all safety information on one screen with a touch pad.
• Stainless steel work surface ensures optimal clean less, chemical resistance and containment of accidental liquid spills.
• Ergonomic design encourages proper posture reducing fatigue.
• Washable, reusable pre filter which trap dust and large particle.
• 10x filtration efficiency of HEPA filter creates Class 100 air quality work zone instead of industry-standard ISO Class 5.
• The removable protective screen located in front of the HEPA filter and easily removed for service and cleaning.
• Each clean bench is individually factory tested for safety and performance in accordance with international standards.
• All components are cleanroom compatible
• Kaizen Airtech Laminar Flow Clean Benches have been tested for cross-contamination and product protection using microbiological test method.
• Built in recessed illuminator provide diffused lighting without interfering with the laminar flow.
• Face velocity is adjustable from less than 90 FPM (0.45 m/s) to higher than 130 FPM (0.66 m/s) Pressure drop from 0.35 to 0.795 inches W.G at 90 FPM (0.45 m/s)
Introduction :
The LF Horizontal Laminar Flow Clean Bench is a completely self-contained, multipurpose, vibration-free clean bench That supplies a laminar flow pattern of HEPA filtered air. The clean bench provides a Class 100 (M 3.5) environment. The unique design concept of the LF Horizontal Laminar Flow Clean Bench consists of separate plenum and table Modules that virtually isolates all vibration transmission from the filter/blower console to the work surface.
Air enters the LF Horizontal Laminar Flow Clean Bench through a pre filter which removes most of the large particles. The air is then evenly distributed across the High Efficiency Particulate Air (HEPA) filter by blower. The HEPA filter removes 99.99% of all particles 0.3 micros and larger in size and imparts a unidirectional or laminar flow pattern to the air. The air moves through the work area at a uniform velocity of 90 feet per minute (+/-20%), carrying away all airborne contamination generated by activities within the work area. All samples or equipment within the work area are continually bathed in the ultra-clean air.
Types :
Horizontal Laminar Air Fow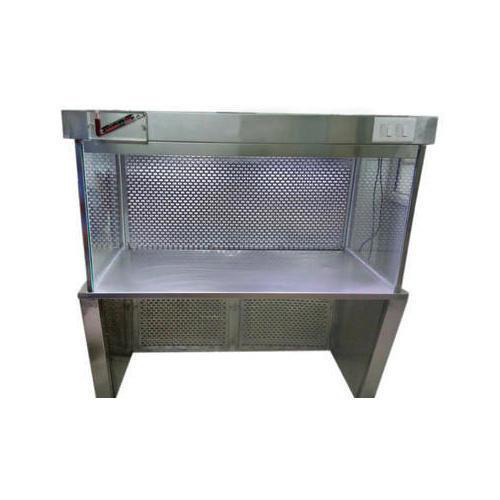 Vertical Laminar Air Flow